An almost $123 billion "contingency" has been set aside for Australia's largest ever defence project, according to a new analysis of the AUKUS nuclear submarine program prepared by the Parliamentary Budget Office (PBO).
Figures compiled this month show the Defence Department expects the whole-of-program costs to reach up to $9 billion over the initial three years, but yearly expenditure to rapidly increase during the final three decades leading up to 2055.
A breakdown of costs for the $368 billion nuclear-powered submarine program reveals Defence has included a provision for a 50 per cent contingency of $123 billion, which is not allocated by year but instead "is triggered on the occurrence of a contingent event".
Under the AUKUS plan unveiled by Prime Minister Anthony Albanese in San Diego last month, Australia will acquire at least three Virginia-class submarines early next decade, pending US Congressional approval.
From the early 2040s, one new British-designed SSN-AUKUS submarine will be built every two years, with five of the new boats hoped to be delivered to the Royal Australian Navy by the middle of the 2050s.
'Real cost closer to half-a-trillion dollars'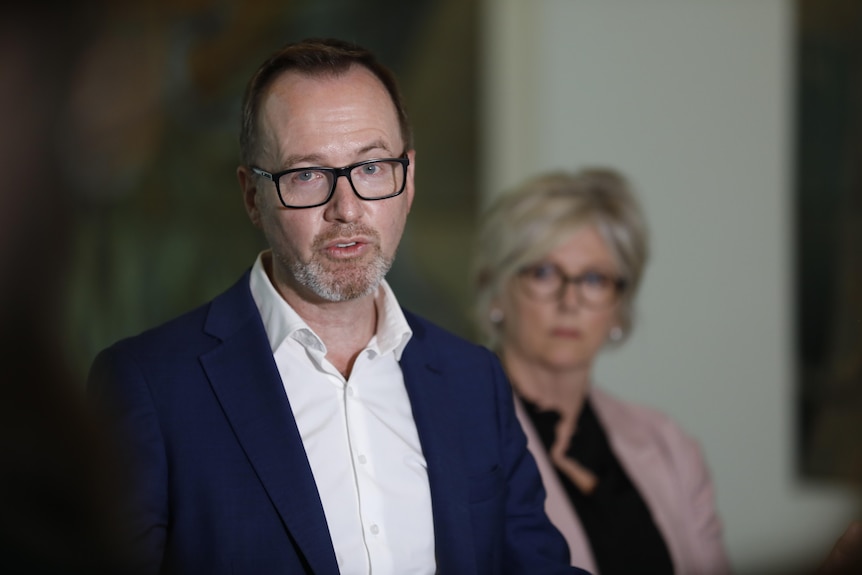 Greens Senator David Shoebridge, whose party requested the PBO analysis, has described the revelations of a 50 per cent contingency in the project as "extraordinary" and questioned whether the total cost could eventually reach half-a-trillion dollars.
"When you read these documents, you see that the government has very little idea about how to deliver this project," Senator Shoebridge told the ABC.
"There is a staggering 50 per cent contingency allowance on the contract which is effectively increasing the price of the contract by 50 per cent because the government doesn't know how to deliver it."
Eventually Australia's nuclear-powered submarine fleet is expected to reach eight Australian-built boats into the 2060s, but the figures detailed in the PBO analysis only account for the whole-of-program costs until 2054-55.
"We've had the government say this is $368 billion project and that's an extraordinary figure, but what these documents show is that only gets us five of the eight AUKUS subs," Senator Shoebridge said.
"(This) means the real cost is going to be closer to half a trillion dollars — I mean these documents are quite explosive."
'A lot of risk and a lot of unknowns'
Former Defence official Marcus Hellyer, one of Australia's leading experts on military procurement, says the PBO analysis highlights there is still a lot of uncertainty about the huge AUKUS endeavour.
"Really what it's saying is there's a base estimate of $240 billion and Defence has applied what it calls 'contingency' to that, so that's essentially an uncertainty provision and in this case that uncertainty provision is around 50 per cent of the base estimate," Dr Hellyer said.
"What that means is there's a lot of things we don't understand about this program, there's a lot of things that haven't been nailed down, and so Defence has applied a very large uncertainty provision to that," he explained.
Dr Hellyer, who is now head of research at Strategic Analysis Australia, said he's never seen a defence project with such a high degree of uncertainty.
"A 50 per cent provision is huge, normally it'd be more in the range of 5, 10 (per cent) for a really uncertain program — a lot of ICT programs for example might have 20 to 25 per cent – but 50 per cent is enormous and to me what that says is there's a lot of risk, a lot of uncertainty and a lot of unknowns around the nuclear submarine program.
"Probably the main uncertainty is that the actual AUKUS submarine hasn't been designed yet … we're not going to start construction for a decade, and so it's very hard to put a precise cost around something that not only doesn't exist but hasn't even been designed yet.
"That's another way of saying there's a lot of risk and uncertainty in the nuclear submarine program."
Source : ABCNews