Top law enforcement officials from the United States and Canada met on Friday to talk about combatting the opioid crisis and reducing firearms trafficking across the border.
Canada's Minister of Public Safety Marco Mendicino and Minister of Justice and Attorney General David Lametti hosted U.S. Attorney General Merrick Garland and U.S. Secretary of Homeland Security Alejandro Mayorkas in Ottawa on Friday for the second Canada–U.S. Cross-Border Crime Forum.
"It is vitally important when two countries are neighbors that they also be partners," Mayorkas said at a press conference after a day of meetings, noting it was his first official visit to Ottawa as secretary. "The security and prosperity of North America is a shared responsibility," he said, adding the American people and Canadians are also friends.
The top law enforcement leaders prioritized finding and taking off the street ghost guns which have been an issue in the United States and in Canada.
"We're going to increase our ability to trace illegal guns," Mendicino said in an interview with ABC News. "We're going to increase or increase our capacity to go after ghost guns, which use 3d technology to evade the law and we're going to increase joint operations on both sides of the border."
Garland told reporters they are focused on targeting illegal guns too.MORE: As special counsel nears decision in Trump cases, who are the lawyers working with him
"The Justice Department is using every tool at our disposal to combat gun trafficking and hold accountable those who flood our communities with illegal guns," he said.
President Joe Biden and the Department of Justice announced a measure last April that would keep untraceable guns off of the streets and out of the hands of those who are prohibited by law from possessing a firearm.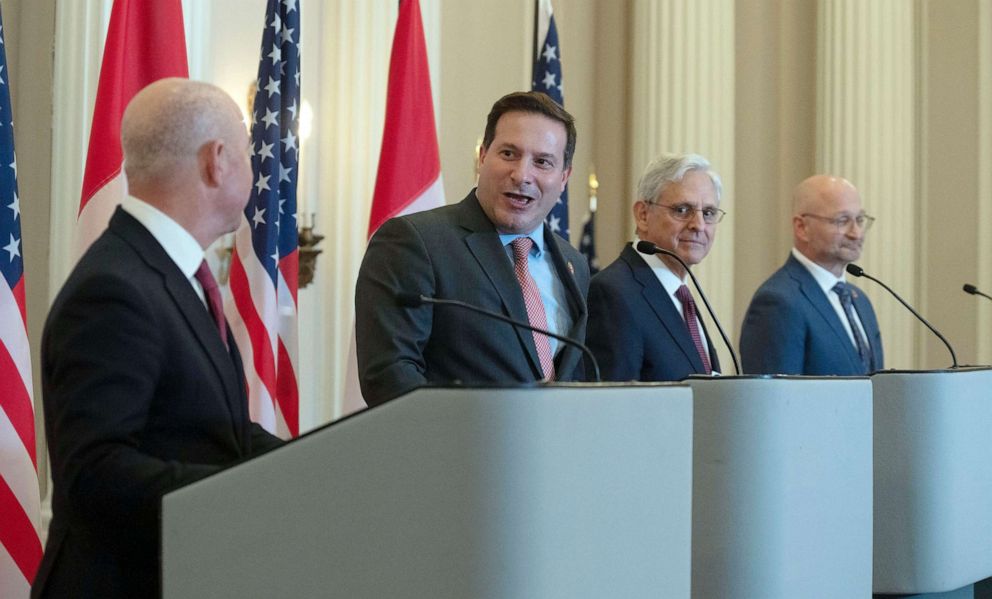 Garland said that the U.S. and Canada are also tackling the issue of fentanyl, by "stepping up information sharing" on precursor chemicals used to make the drug.
"We are working together to target each stage of the movement, manufacturing, and sale of fentanyl, from start to finish," he said.
According to provisional data from the Centers for Disease Control and Prevention, there were an estimated 107,622 drug overdose deaths in the U.S. in 2021 — a record-high. The majority of these deaths were due to opioids, particularly synthetic opioids such as fentanyl, which is between 50 and 100 times stronger than morphine.
There have been more than 9,000 apparent opioid-related deaths since 2016, according to data from the Canadian government.
Mendicino told ABC News there has been a "human toll that has been seen on both sides of the border as a result of the fentanyl and opioid crisis."
He said they are also working on setting up a task force to combat drug smuggling as well.
"We identified that the People's Republic of China, the Chinese regime has to be held accountable for their role in allowing these precursors to make their way transnationally into Canada and United States," he said.
Source : ABCNews