Samuel Alito said the decision he wrote removing the federal right to abortion made him and other US supreme court justices "targets of assassination" but denied claims he was responsible for its leak in draft form.
"Those of us who were thought to be in the majority, thought to have approved my draft opinion, were really targets of assassination," Alito told the Wall Street Journal in an interview published on Friday.
"It was rational for people to believe they might be able to stop the decision in Dobbs by killing one of us."
Alito wrote the ruling in Dobbs v Jackson, the Mississippi case that overturned Roe v Wade, which established the right to abortion in 1973.
Alito's draft ruling was leaked to Politico on 2 May last year, to uproar and protest nationwide. The final ruling was issued on 24 June.
On 8 June, an armed man was arrested outside the home of Brett Kavanaugh, with Alito one of six conservatives on the nine-justice court. Charged with attempted murder of a United States judge, the man pleaded not guilty.
The conservative chief justice, John Roberts, voted against overturning Roe, but the three rightwingers installed by Republicans under Donald Trump ensured it fell regardless.
Progressives charged that a conservative, perhaps the hardline Alito, might have orchestrated the leak in an attempt to lock in a majority for such a momentous decision.
Alito said: "That's infuriating to me. Look, this made us targets of assassination. Would I do that to myself? Would the five of us have done that to ourselves? It's quite implausible."
The leak was investigated by the supreme court marshal, without establishing a perpetrator.
Saying the marshal "did a good job with the resources that were available", Alito said he had "a pretty good idea who is responsible, but that's different from the level of proof that is needed to name somebody".
Alito said the leak "was a part of an effort to prevent the Dobbs draft … from becoming the decision of the court. And that's how it was used for those six weeks by people on the outside, as part of the campaign to try to intimidate the court."
He also said the leak "created an atmosphere of suspicion and distrust". The justices "worked through it", he said, "and last year we got our work done … but it was damaging".
Last November, after a bombshell New York Times report, Alito denied leaking information about a decision in a 2014 case about contraception and religious rights.
His Wall Street Journal interview seemed bound to further anger Democrats and progressives. Justices regularly claim not to be politically motivated, but even with a Democrat in the White House the court has made other momentous conservative rulings, notably including a loosening of gun-control laws.
Joe Biden's administration has shied from calls for reform, including the idea justices should be added to establish balance or give liberals a majority, reflecting Democratic control of the White House and Senate.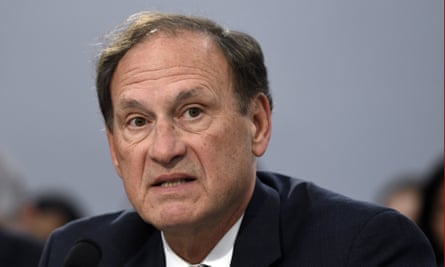 Alito told the Journal he did not "feel physically unsafe, because we now have a lot of protection". He also said he was "driven around in basically a tank, and I'm not really supposed to go anyplace by myself without the tank and my members of the police force".
Complaining that criticism also stoked by corruption allegations against two more conservatives, Clarence Thomas and Neil Gorsuch, were "new during my lifetime", Alito said: "We are being hammered daily, and I think quite unfairly in a lot of instances.
"And nobody, practically nobody, is defending us. The idea has always been that judges are not supposed to respond to criticisms, but if the courts are being unfairly attacked, the organised bar will come to their defense."
Alito said legal authorities had, "if anything … participated to some degree in these attacks".
He declined to comment on reporting by ProPublica about Thomas's friendship with Harlan Crow, a Republican mega-donor who has bestowed gifts and purchases which Thomas largely did not disclose.
But Alito did complain about how Kavanaugh was treated when allegations of sexual assault surfaced during his confirmation process.
"After Justice Kavanaugh was accused of being a rapist … he made an impassioned speech, made an impassioned scene, and he was criticised because it was supposedly not judicious, not the proper behavior for a judge to speak in those terms.
"I don't know – if somebody calls you a rapist?"
Accusations against Kavanaugh included attempted rape while a high school student. On Friday, the Guardian reported that new information showed serious omissions in a Senate investigation of the allegations, mounted when Republicans controlled the chamber.
Polling shows that public trust in the supreme court has reached historic lows.
"We're being bombarded," Alito complained, "and then those who are attacking us say: 'Look how unpopular they are. Look how low their approval rating has sunk.'
"Well, yeah, what do you expect when … day in and day out, 'They're illegitimate. They're engaging in all sorts of unethical conduct. They're doing this, they're doing that'?"
Such attacks, he said, "undermine confidence in the government [as] it's one thing to say the court is wrong; it's another thing to say it's an illegitimate institution".
With some court-watchers, the interview landed heavily.
Robert Maguire, research director for Citizens for Responsibility and Ethics in Washington, an independent watchdog, said: "There is no depth to the pity [justices] – and Alito in particular – feel for themselves when they face public criticism."
Source : TheGuardian