Ivy Buzinhani Brustello made weightlifting history on the opening day of the 2023 IWF World Youth Championships in Durres, Albania when she won a world title at the age of 12 years 264 days.
Nobody under 13 had ever won a medal in international competition before Ivy's victory in the women's 40kg today, according to the OlyFanatics database that has results of 34,000 lifters dating back to 1898.
"It was an amazing experience – I wasn't expecting this," said Ivy, who was born in Canada after her Brazilian parents moved there.
"I train five days a week, two hours a day, and I have always been competitive, and good at controlling the mental stress.
"I know weightlifting is not the most popular sport, but my friends at school think it's pretty cool that I get to go to lots of places to compete."
Until this trip, Ivy had competed only in Canada and the United States. She lifted in 12 competitions last year, taking her best total from 86kg to 112kg.
Ivy practised gymnastics with her team-mate and close friend Emily Ibanez Guerrero, who lifts in the 55kg category on Monday, and switched across to weightlifting four years ago.
Emily is even younger, as her 13th birthday is not until December. She could displace Ivy as weightlifting's youngest international medallist within two days, and Ivy will be happy to see it as she will be cheering on Emily at the Ramazan Njala Sport Complex.
Both girls will be back again on Wednesday to support Brayan Ibanez, Emily's 16-year-old brother who became Canada's first world youth medallist last year.
All three of these outstanding young athletes train at the same club in Montreal, run by Ivy's coach Abigail Guerrero and her husband Ciro Ibanez, who was an international lifter for Cuba and a coach in France and Spain before he moved to Canada.
Guerrero said, "Ivy is such a talent and she would be good at any sport she tried because of her mental strength."
Canada's team of eight includes another strong medal contender in Etta Mae Love in the women's +81kg super-heavyweights.
Ivy speaks English, French and Portuguese, can clearly cope with doing media interviews, and showed excellent technique on the platform as she calmly made personal bests across the board. She made five from six to take a sweep of gold medals with 53-67-120.
Melek Sahin (TUR), who was third in the snatch, would have beaten Ivy by 1kg had she made her final clean and jerk but she failed and finished second on 53-66-119.
Third-placed Sabar Jyoshna (IND) was second in the snatch but only sixth in clean and jerk, ending on 53-62-115, and Basma Gunaidy (EGY) took bronze in clean and jerk on 66kg after failing with all three snatch attempts.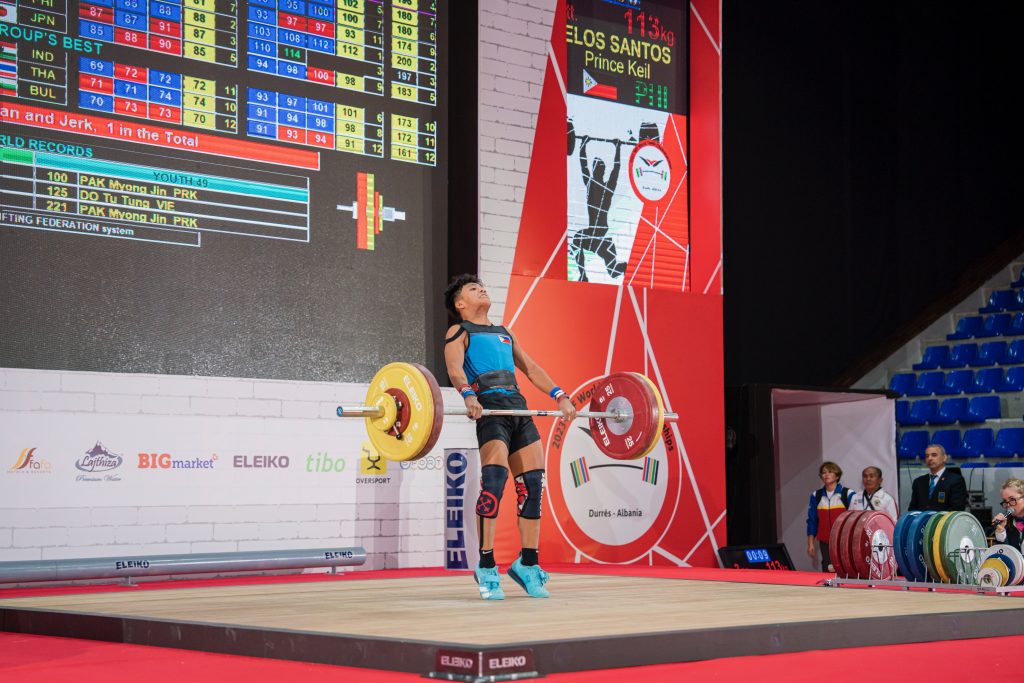 The Philippines had a one-two finish in the opening event of the Championships, the men's 49kg.
Keil Delos Santos made all six lifts to finish 92-113-205, ahead of his team-mate Eron Borres, who took the clean and jerk gold in making 87-114-201.
Third place went to another six-from-six lifter, Dhanush Loganathan from India, who was second in the snatch behind Delos Santos and made 88-112-200.
Both the 15-year-old Philippines medallists went straight into weightlifting without taking up another sport, Delos Santos aged nine and Borres aged eight – and both said their ultimate ambition is "to be Olympic champion".
They have been inspired, they both said, by Hidilyn Diaz, who became the first Olympic gold medallist in any sport for the Philippines in Tokyo in 2021.
Bui Minh Dao, the 13-year-old Asian youth champion, missed two of his clean and jerks and had a sweep of fourth-place finishes on 86-109-195, which was 1kg lower than his continental total last July.
Source : IWF